History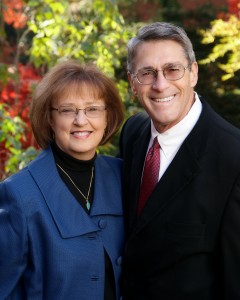 Mike and Judy Stewart founded Cornerstone Counseling Center in 1995 as a 501(c) (3) non-profit organization.  The Stewarts met and married while in seminary at Columbia International University.  After 10 years (7 in ministry) they returned to graduate school and finished a second master's degree in Christian counseling at Colorado Christian University. Upon returning to Hickory, their desire was to develop a counseling center that offered the Catawba Valley professional Christian counseling.  "We became convinced from our own personal experiences that what a person does with pain, disappointments, and hurts has profound implications on how life is lived.  Personal wounds, difficult life circumstances, or disappointments can give way to depression, anxiety, hopelessness, compulsions, abuses, and broken relationships. Regardless of the root causes, God longs to liberate and strengthen each individual and to restore relationships with others and Himself.  Knowing God's heart for redemption and who He has created us to be gives us hope and courage."
An integral part of Cornerstone's growth came in 2000.  After completing her Ph.D. in Counseling and Educational Development at UNC Greensboro, Hickory native, Dr. Shirley Huffman, joined the Stewarts in broadening Cornerstone's goals.  "Shirley's heart for God, people, and counseling mirrored our own."  Shirley resigned her position as Director of Counseling Services at Lenoir-Rhyne University prior to entering UNCG.  Currently, she serves as Director of Clinical Services and The Institute, as well as providing counseling services.
Cornerstone currently includes a staff of over thirty counselors, teachers, and support personnel.  Each counselor is committed to promoting excellence in Christian counseling and integrating sound counseling theories and strategies with Christian principles. The ecumenical fabric of Cornerstone is evidenced by the denominational diversity of the staff.  CCC counselors are professionally trained and licensed (or in the licensure process) and counsel children, adolescents, and adults covering a range of counseling issues including depression, anxiety, stress, grief, abuse, marital & family, parenting, addictions, and issues related to ADHD and other learning differences.
After five years of diagnosing and counseling students with learning differences, Cornerstone began its educational division committed to offering testing, tutoring and academic services.  Four years later, Cornerstone Christian Academy was created to address the profound effects that learning differences have on the lives of students.  CCA serves the academic needs of students with learning differences who have cognitive abilities in the average or above range. "We help students by understanding their learning style and academic struggles, while developing compensatory strategies and discovering individual strengths."  Having grown to over 30 full-time day students, CCA remains committed to small groupings with low student/teacher ratios.  Our program is rooted in Christian principles and our curriculum is multi-sensory and strongly based in the Orton-Gillingham approach to language study.
The Cornerstone Institute is currently being developed under the direction of Dr. Huffman. We believe that theology and psychology are a powerful blend and seek to integrate these in educational programs.   Seminars, workshops, and conferences offer opportunities to meet the needs of many individuals and families in our community. We enjoy partnering with churches and organizations to provide education in areas such as parenting, understanding teens, marriage, stress management, leadership, and forgiveness, to name just a few. The institute also provides professional development in the form of supervision, counselor training, and continuing education for Christian counselors.
Now, over 20 years after our beginning, we are overwhelmed by God's faithfulness.  Our growth is in part due to gracious supporters committed to partnering with us to offer Christian counseling, educational services, and professional and personal development.  Cornerstone is located at 439 1st Avenue NW, Hickory and we can be reached at (828) 322-4941.